Blogging, Branding, Connecting with Others, Facebook Ads, Facebook Marketing, Google Plus, Instagram Marketing, Linkedin Marketing, Periscope, Pinterest Marketing, Social Media Marketing, Twitter Marketing, Visual Marketing, Youtube Marketing
audience, avatar, content marketing, facebook audience, facebook insights, facebook marketing
Use Facebook Insights to learn your Audience
Do you know who your audience is for your business? Or do you 'think' you you know? Maybe you aren't sure? Or maybe you think it is everyone? (It's not 'everyone..fyi)
How to Access your Insights?
Go to you Facebook Page -> Click Insights
What should I look at in Insights?
All areas are important. When you log in, you will see a general overview of your Page stats. The default setting is 7-day. It shows you Actions on Page, Page Views, Page Likes, Reach and Videos.
It will look similar to the below example.
To learn how to use Facebook insights to learn your audience, click on 'People' on the left hand side.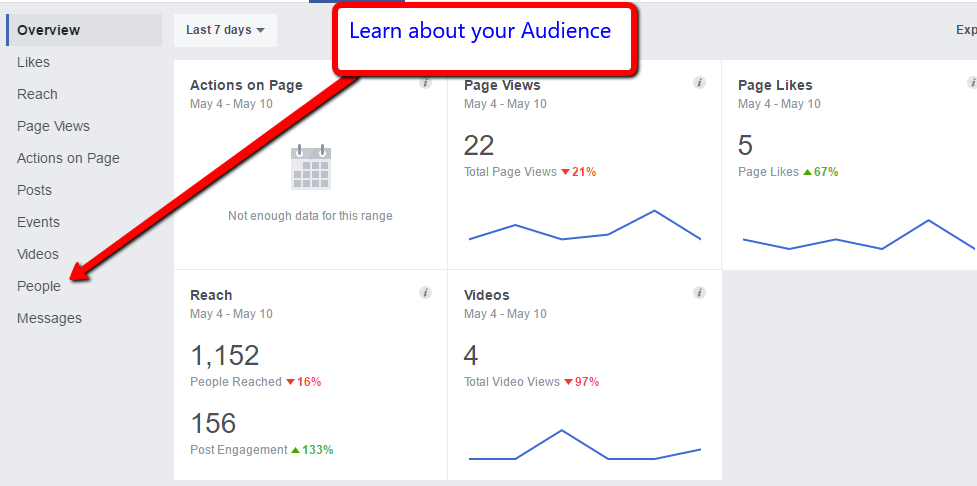 Now you will see a page that looks like the below example.
This is actually from my Janet E Johnson Business Page. Let's break it down.
We have Fans, People Reached and People Engaged.
#1: Fans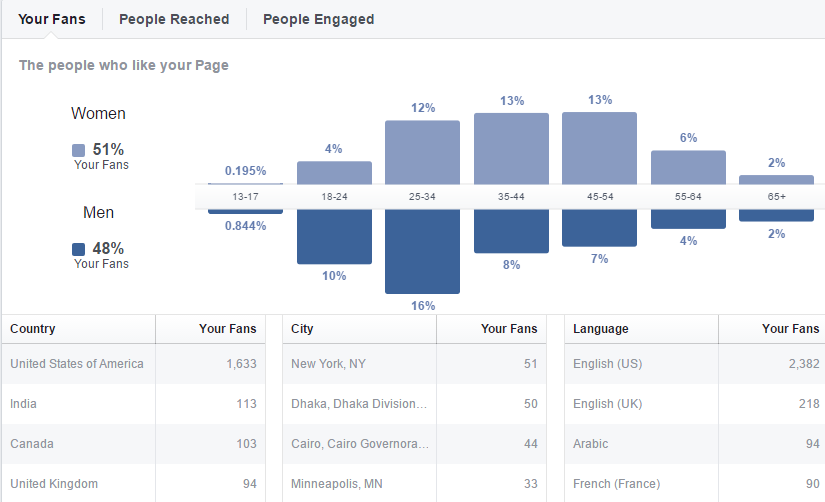 Men vs Women / Age Groups – Biggest group: Men, Ages 25-34 (16%), 2nd Biggest group: Women, Ages 35-54 (2 groups are tied), then close behind is Women, Ages 25-34.
What's this tell me? My fans overall are spread out. I do need to be sure speak to an audience of men, as well as women. I also need to remember I am talking to 25 year olds, as well as 54 year olds. But I tend to have a younger fan base on my page.
Country's/Cities – Biggest group is United States (not surprising), but what is surprising is I have more fans in New York than Minneapolis. And I'm in Minnesota. There's more detail than what I'm showing you and I do have many more fans in Minnesota than what is here. The other interesting thing is I don't even know the 2 cities in between. You learn a lot by looking at these insights!
#2: People Reached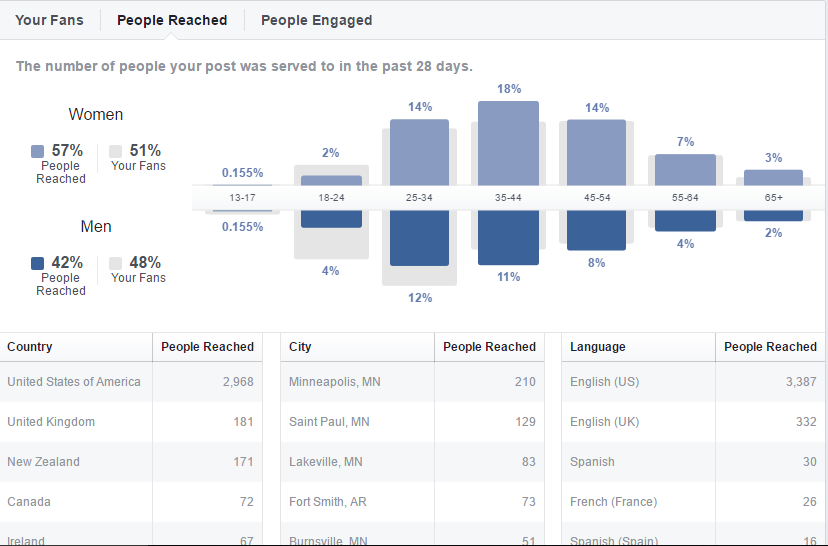 Now this is who is at least 'seeing' my posts. Once again, no surprise, United States is highest. As for cities, this makes more sense. 4 out of 5 cities are in Minnesota, where I live. Arizona, for some reason that I don't know of, is in the top reached. I don't worry about language too much.
#3: People Engaged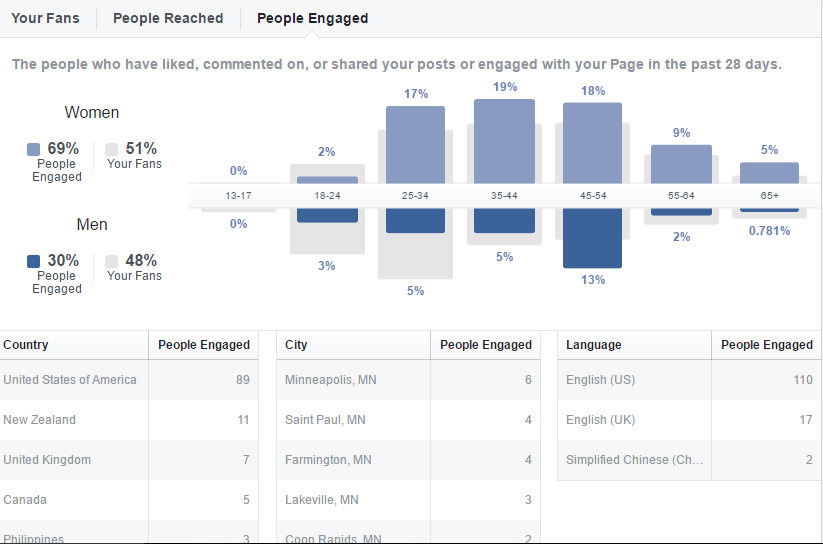 This is a very important one. This is who is actually engaging. On this chart, the majority engaging is Women, between the ages of 25-64. They are all mainly in Minnesota. Now remember how the biggest area for my fans was Men, ages 25-34? This tells me, they may be fans, but they aren't necessarily engaging. The men actually engaging are ages 45-54.
Your Action Step:
Now it's time for you to use Facebook insights to learn your audience.
Go to your People in your Facebook Page Insights. Review all the above. Fans, People Reached and People Engaged.
What does it tell you? Is your content targeting the right people? If you run Facebook ads, are you targeting the demographic that is actually interested?
The more you learn about your audience, the better you can resonate with them, grow and make sales.
Click To Tweet
Now just because Facebook shows you detailed analytics of who your audience is, might not determine your overall audience. But I think it gives major insight to who it is.
I'd love to hear if you learned from looking into yours and if it was what you thought or different. Let me know in the comments below. 🙂
The following two tabs change content below.
Janet Johnson
Janet E Johnson has numerous years in online marketing. She started her online career selling products on eBay in 1998. In her career, she has worked with both large brands and smaller businesses. Janet is the creator of the online social media training course, Social Strategies 101, hosts a podcast, Business Growth Time, and has been featured on Social Media Today, CNN, Entrepreneur, Smartbrief, Inbound.org and NISM.
Latest posts by Janet Johnson (see all)
Comments
comments