Is your company having difficulty keeping up with the constant-changing world of social media? Janet E Johnson LLC offers full service management for Facebook advertising, as well as partial management, working with your team. We also specialize in Pinterest management (see case studies below).
We pride ourselves on working with jewelers, mortgage loan officers and real estate, builders, dentists, as well as ecommerce and coaches.
We specialize in creating a strategy and online lead generation funnel to guide the potential customer from brand awareness to an actual conversion.
Top Social Media Specialties of our Agency:
Strategy and Management
Video Marketing

A few Case Studies in 2016/2017:
Jewelry Client Case Study:
Connoisseurs Social Media Sept 2015 – November 2016
Typical Growth of a Pinterest account management from our team: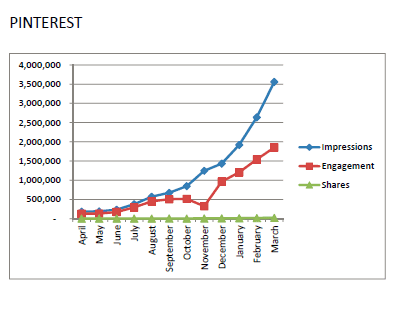 Pinterest – Strategy, Software, consistent posting, graphic ideas, contest
Sept 2015 MONTHLY: Impressions: 8,760, Repins: 30
GROWTH: Feb 2017 MONTHLY: Impressions: 2.7 million, Repins: 17,730
Clicks to Website from Pinterest in Feb 2017: 7,020
Facebook
Strategy, consistent posting, engagement ideas, graphic ideas, video concepts, ad management, contests
Sept 2015 MONTHLY: Reach: 15,900 Engagement: 2,405
GROWTH: Sept 2016 MONTHLY: Reach: 435,742 Engagement: 37,378
Instagram – Strategy, graphics, contest
Sept 2015 MONTHLY: Engagement: 0 (low)
GROWTH: MONTHLY: Sept 2016 Engagement: 1,000+
Deck Company: Customer Testimonial video
$600 ad spend on Facebook: 55,000 views, corporate noticed video and now deck featured in TV commercial photo shoot, retargeted viewers with special offer, 30 offers were redeemed – Approximate profit on 30 offers = $30K+
$600 Facebook Ad Spend = $30K+ Profit
Janet and her team pride themselves on continuous education in the industry. She learns and trains others, which makes her even better at helping clients.
Mortgage Officer Case Study:
Facebook Lead Ad Generation – Currently getting leads every day at a very low ad spend.
Closed a $300K home through a Facebook ad within the first 2 weeks of advertising on Facebook!
Social Media Trainings attended 2016/2017
Social Media Success Online Summit – Social Media Examiner (Largest, most respected in industry)
Social Media Rock Star Conference – Attended and spoke on the Panel regarding Social Media
Facebook Video Ads Online Training Program – James Wedmore
FB (Facebook) Ads Academy 10-Week Coaching Program – 8Loop Social
Converted Conference (2015 and 2016)
Social Media Marketing World 2017 (San Diego, CA) – Sponsored by Social Media Examiner
Speaker at ASD MarketWeek and Independent Retail Conference – March 2017
ECommerce Business School Workshop – September 2017