Blogging, Branding, Connecting with Others, Contests, Facebook Ads, Facebook Marketing, Social Media Marketing
facebook 2016, facebook likes, facebook marketing, facebook tips, social media marketing
Simple Way to get MORE Facebook Likes VERY Cheap
With millions of people accessing Facebook on a daily basis, the social networking site has also evolved as a popular platform to promote your business activities, products and services. Once you create a page on Facebook, the same can be used by your business as an efficient medium of advertisement and marketing. But you have to spend some time promoting your page on Facebook to attract additional users to become fans by liking your page or another way of saying it is "get likes" on your Page.
Here, we'll run down of the easiest and most cost-effective ways to get more Facebook fans.
Are likes important?
Yes and No. Likes are social proof, so that's one reason businesses like having lots of them. But, social proof doesn't pay the bills. You need a strategy to not only build your likes, but to also retarget these likes in with future posts and promotions.
How do I get more likes?
Promote your Page with an ad
Put on business cards, email signatures and newsletters
Put on your website
Hang a sign at your business
Invite your friends
These are all things you should do, but there are faster ways. Now, let's talk strategy. I'm going to show you a simple way to get MORE Facebook likes VERY Cheap, but the cost will be MUCH less money than to promote your Page with an ad.
Step 1: Create a Post that is fun, ask a question, give something away on your timeline. The goal is to get LIKES on that post. Don't ask for the like. Instead, create the engagement. With one of my clients, we do weekly posts where we give away an inexpensive product of theirs and ask a question. Fans and non-fans love this contest. We get hundreds of likes weekly on this post alone.
Step 2: Boost the Post. Now, depending on your target audience, you can boost to fans and non-fans. Or if you have a very specific audience, then target that audience. Test the boost with $5-$20. See how it goes. If it is going well, consider adding more ad spend to that specific post.
Step 3: Get Likes on the Post itself. Once you see the likes, then go on to step 4.
Step 4: Click on the people that have liked the post (right below the post itself). This MUST be done on desktop. This DOES NOT work on mobile. Very important to remember this.

Step 5: Click 'Invite' next to each person that has it. These are all people that liked the post, but have not liked your page. Pretty cool, huh?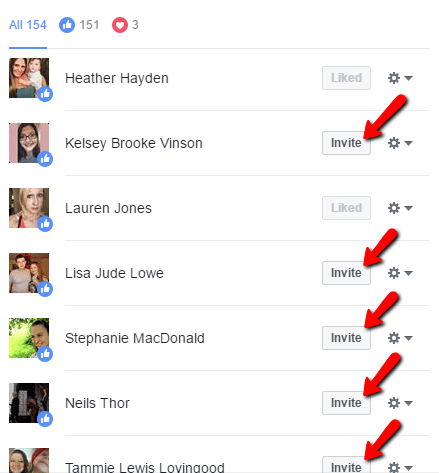 Step 6: Set up a weekly strategy and ad spend to get the post likes and expand your audience. Remember, every post like could be a potential fan.
Step 7: To make these fans worth it, be sure to retarget your fans with content and promotions. Less than 4% of fans actually see your Page posts, so you do need to spends some money to target them. I would rather run a promotion targeting my fans, people who have chosen to like my Page and know who I am vs total strangers.
This is a simple way to get MORE Facebook likes VERY cheap! Now, head over to your Page and invite some people!
Also, I discussed this in a recent Facebook Live, so if you'd like to listen to that, here it is.

The following two tabs change content below.
Janet Johnson
Janet E Johnson has numerous years in online marketing. She started her online career selling products on eBay in 1998. In her career, she has worked with both large brands and smaller businesses. Janet is the creator of the online social media training course, Social Strategies 101, hosts a podcast, Business Growth Time, and has been featured on Social Media Today, CNN, Entrepreneur, Smartbrief, Inbound.org and NISM.
Latest posts by Janet Johnson (see all)
Comments
comments