Blogging, Branding, Connecting with Others, Email Marketing, Facebook Ads, Facebook Marketing, Product, Productivity, SEO, Social Media Marketing, Visual Marketing
business, content, content strategy, digitalmarketing, entrepreneur businessmarketing, facebookads facebookadvertising, facebookmarketing, facebookpage, Marketing, marketingtips, socialmedia, socialmediamarketing, socialmediastrategy, socialmediatips, videomarketing
Repurpose Content In Different Places and Formats
Often times, it may seem like you have a lot of work to do, just in online marketing. You have writing newsletters, emails, articles and blogs, social media posts, graphics, videos and possibly more than that.
You might do this because you want to reach your customer in every way imaginable. You will be amazed that there is an easy way to turn one content format into many.
A lot of business owners do not make good use of a piece of content when it comes to recycling it. But, most businesses rely on this material to expand their online reach. Below are suggestions for effectively repurposing your articles in the best light possible.
Start with a blog post.
Turn your original idea into a post that is two to three hundred words in length. Your blog is your home on the internet. By creating relevant, interesting and informative content on it, you are laying a strong foundation for your internet business and online presence. You are also establishing that it is an original idea of yours, which lends to your credibility.
After this, you can further repurpose your content into:

Newsletters
E-courses
Videos
Graphics
Tweets
Facebook Posts
Infographics
Audio Recordings
[clickToTweet tweet="By repurposing your content, you can build your online empire." quote="By repurposing your content, you can build your online empire."]
Think about the different ways you can offer your clients your products: the different types of media you have available to you and they have available to them. The more choices your customers have, the higher consumption of your products is going to be. This will generate the valuable characteristics that make your customers love you, want more of you and keep them anticipating your social media updates.
For more content creation ideas, download my free guide: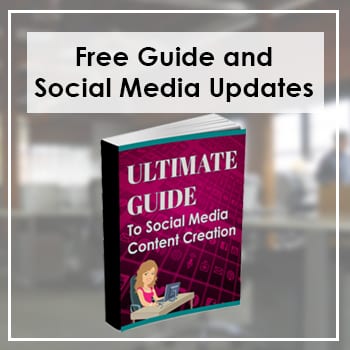 The following two tabs change content below.
Janet Johnson
Janet E Johnson has numerous years in online marketing. She started her online career selling products on eBay in 1998. In her career, she has worked with both large brands and smaller businesses. Janet is the creator of the online social media training course, Social Strategies 101, hosts a podcast, Business Growth Time, and has been featured on Social Media Today, CNN, Entrepreneur, Smartbrief, Inbound.org and NISM.
Latest posts by Janet Johnson (see all)
Comments
comments