Blogging, Branding, Connecting with Others, Linkedin Marketing, Podcast, Productivity, Video, Video Seo
B2B business, Facebook Live, linkedin, linkedin live, linkedin marketing, linkedin strategy, LinkedIn tips, LinkedIn video, video
How is Video Performing on LinkedIn?
In our latest podcast episode, Terry breaks down recent tests on videos that he has uploaded to LinkedIn.
Now, pay attention, at this time of this recording, video on LinkedIn had only been available a few weeks. Platforms tend to give it prevalence to other types of posts in the beginning, but it does eventual not get the 'new' type of performance.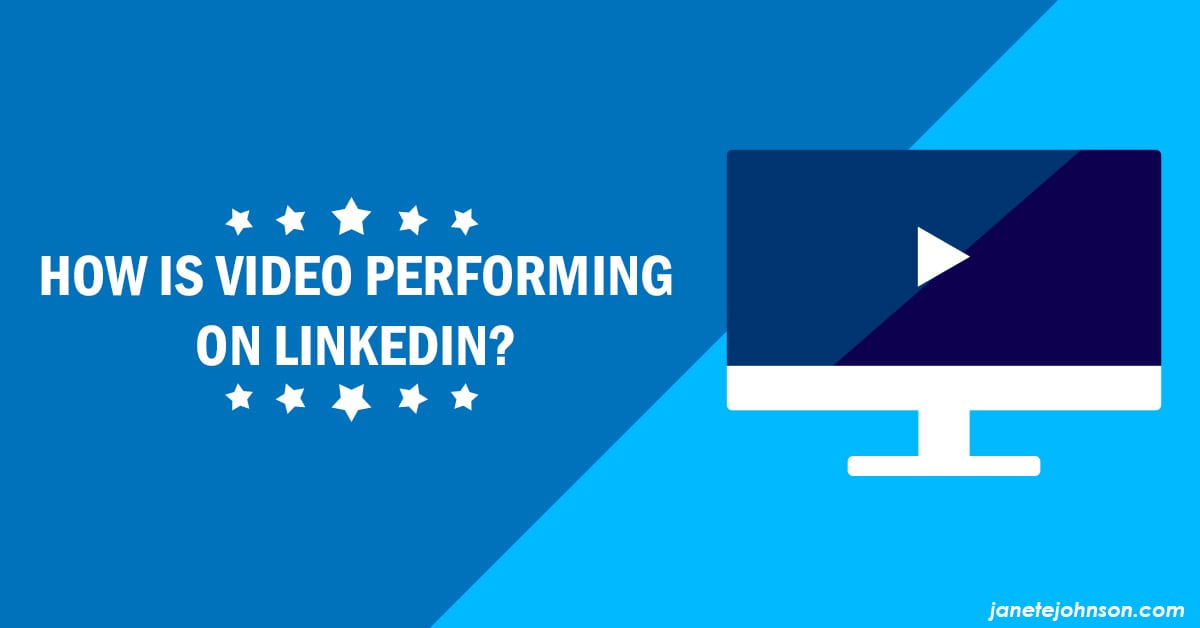 Listen to learn the breakdown of Terry's LinkedIn video experience and test it out for yourself!
Listen to Episode via Podcast:

Watch the Episode on Video:
05:02 -Stats, what the videos were and how they came out
In Terry's word.."It doesn't matter how great your content is, if they're wrong people have seen it."
The four C's
Content, Community, Connections, and Conversion
06:44 – Terry uploaded a video to LinkedIn
He tagged it TBT which is a hashtag and they are not normally used on LinkedIn
This video was recorded on 2011 called "How to grab their attention."
Honestly, the video itself had a lot of good content
It was recorded on his flip phone, it's that old
It has four good ideas on how to connect with people
He's had 124 views in 24 hours, which isn't bad for the quality of the video
You can use these four ideas whether you're connecting online or in person.
08:02 – The downside of this video
There was something about the authenticity at the moment of setting the camera up and having it face the table, there was no camera option for facing a different way..you just had to hope you got in the screen
It has received as of this podcast recording, 127 views of the video
Some audience members who have viewed the video are the people who have the title salesperson, CEO and executive director, there are nine people from a Telecom
The biggest audiences in Detroit and then Columbus, Ohio is the second
Summary: Video is great for reach on LinkedIn
09:46 – Stats of the video-where to find them
You can go in right there to the right view of it where it's in your profile under your activities you can look at the video
Click on that to open up, once you click it, it opens it up and it tells you the market, the titles of people and the companies that they're from and whether they are first degree network or second degree.
So, you can see how much reach the video has!
11:53 – Video 2
So, this video is about what networking events are? They're not sales events and it's titled "If it's the 28th of the month or the last three days of the quarter and you haven't hit your quota yet, networking events are not for you, here's why."
This was done on September 29th
This video has 17 likes and 2 comments and again it was done a week ago
Video analytics: of this 17 likes and 2 comments were 1,115 views so and most of the views came from his first-degree connections
Biggest audiences was in Detroit, second-biggest of Chicago, followed immediately by New York
14:24 – The first video
The first video was on posted September 23rd called "Quick tips on business card etiquette at networking events."
Got 6,465 organic video views
156 people had the salesperson title, 96 people were CEO, 50 people were business corporate strategists
The biggest area is Detroit, second-biggest area Minneapolis, Saint Paul
They have 24 likes and 5 comments
17:39 – Janet's on a viral post
A hundred likes, a lot of comments on her recent photo shoot
19:24 – Past podcast episodes & their stats
20:33 – Terry's post on Ted X and just text
It was posted 3 days ago
2,468 video views
There's nothing even to grab the readers other than the words
It was super relevant, it was super relatable, it had a lot of detail and it was about something people really care about
Got 8 comments, and 10 likes some of those comments included tags of other people
22:24 – LinkedIn video platform
Facebook Live is more casual, chit-chat, authentic
LinkedIn is more prim, proper, professional ..or should it be…maybe be yourself and keep it professional
What the subject is, does matter obviously, makes a difference on talking about Pinterest on LinkedIn
Janet says that video is going to be worth testing
As, these platforms launch video or launch something new, they do give it more power to start having people want to use it
Since video is so new on LinkedIn, they're probably giving it more power
…And if you are a B2B business, absolutely take advantage of it!
28:33 -Important piece of advice from Janet's and Terry's
If you have a video over on Facebook put it over on YouTube, put it on LinkedIn, get it out there!
Repurpose that content or reuse that content that is good and that will resonate with the audience
So, how is video performing on LinkedIn? We think pretty dang well!
(This podcast was previously posted on Business Growth Time)
The following two tabs change content below.
Janet Johnson
Janet E Johnson has numerous years in online marketing. She started her online career selling products on eBay in 1998. In her career, she has worked with both large brands and smaller businesses. Janet is the creator of the online social media training course, Social Strategies 101, hosts a podcast, Business Growth Time, and has been featured on Social Media Today, CNN, Entrepreneur, Smartbrief, Inbound.org and NISM.
Latest posts by Janet Johnson (see all)
Comments
comments