Blogging, Connecting with Others, Facebook Ads, Facebook Ads, Facebook Marketing, Productivity, Social Media Marketing, Video, Visual Marketing
Facebook Live, facebook marketing, social media, social media 2017
This post is about a new student of mine and is part of Ann Sieg's community. I recently heard her story and had to share her Facebook Live Case Study Success Story. It is absolutely amazing and shows the power that Facebook Live can really have on a business.
Karen runs a business that sells scrap booking items called Stampin' Up! She has been a Stampin' Up! demonstrator for 16 years.
Now, this is an example of a very niche business, that really hits a certain demographic. She does a lot of workshops locally too.
Here's Karen's Facebook Live Case Study Success Story:
Recently, her and her husband starting doing weekly, scheduled Facebook Lives in September, 2016. She sent out an email reminding her list of around 1,000 subscribers that she was going to be doing her live show this week and asked them to join. Her and her husband add a bit of humor to their lessons, but mainly it is just educating with stamping ideas.
You can view some of her live videos right on her Facebook Page.
Below is one Facebook Live example.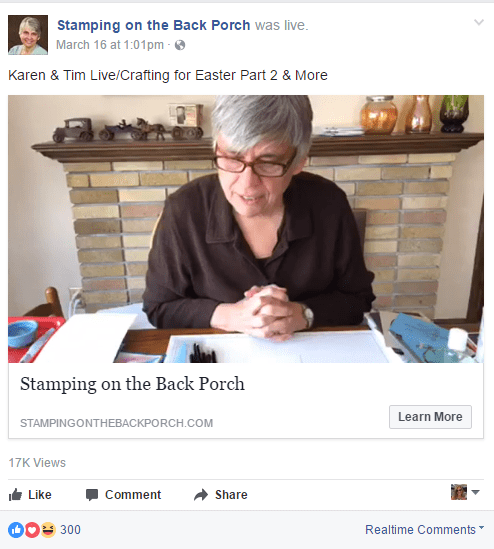 IMPORTANT Sales Stats:
Since they started this, her sales have grown tremendously! The below figures ONLY include online orders from people she has not met in person (so all new sales!). She has many repeat customers and she keeps adding new.
September, 2016 – $240 in online orders with 5 customers
November, 2016 – $1900 in online orders with 28 customers
January, 2017 was $3900 in online orders with 69 customers
More Stats from Karen's Facebook Live Case Study Success Story:
Her company is network marketing, where she benefits from others signing up to be a seller. This has increased directly from her Facebook Lives too. She recruited 12 new sellers. 10 of her 12 new recruits during this time were from Facebook Live.
Her mailing list during this time has also gone from 1000 to 1800.
She has been online for years blogging and doing YouTube videos. She has a few hundred videos on YouTube – and some have 10,000 views – but she has not gotten more than a handful of customers from all of that.
Her local sales (class attendees and local customers who now order online) remain consistent from $1500 – $1800/mo.
Let's break this down a bit more on Karen's Facebook Live Strategy.
She runs a weekly LIVE show on her Facebook Page educating viewers with new stamping ideas
Before the LIVE show, she emails her email list
After the LIVE show, she boosts it from between $10 and $30, depending on the comments she gets during the show and how good she thinks it went. She runs them for 3 days if she is doing $10 and 7 if she is doing $30. (She also starts the boost after 2 or 3 days of organic building before the boost.
She responds to every comment – and she gets hundreds of those each week.
What more could be done?
The area that I am training Karen on is creating audiences of video viewers. She has well over 100,000 views on these videos that she can now create and audience and retarget with an offer to convert to a sale!!!! She has done all this without even using the videos viewers audience.
I will be running a FREE webinar on April 20th to teach how to gain leads and sales for your business using Facebook video strategies. Come join me to learn more!

Learn more about Karen and her Stampin' Up! business at:
Website: karentitus.com
Facebook Page: facebook.com/Stampingonthebackporch
The following two tabs change content below.
Janet Johnson
Janet E Johnson has numerous years in online marketing. She started her online career selling products on eBay in 1998. In her career, she has worked with both large brands and smaller businesses. Janet is the creator of the online social media training course, Social Strategies 101, hosts a podcast, Business Growth Time, and has been featured on Social Media Today, CNN, Entrepreneur, Smartbrief, Inbound.org and NISM.
Latest posts by Janet Johnson (see all)
Comments
comments