Blogging, Branding, Connecting with Others, Contests, Email Marketing, Facebook Marketing, Google Plus, Hootsuite, Instagram Marketing, Linkedin Marketing, Periscope, Pinterest Marketing, Podcast, Social Media Marketing, Twitter Marketing, Video, Visual Marketing, Youtube Marketing
blog content, content marketing, content strategy, email marketing content, social media content, video content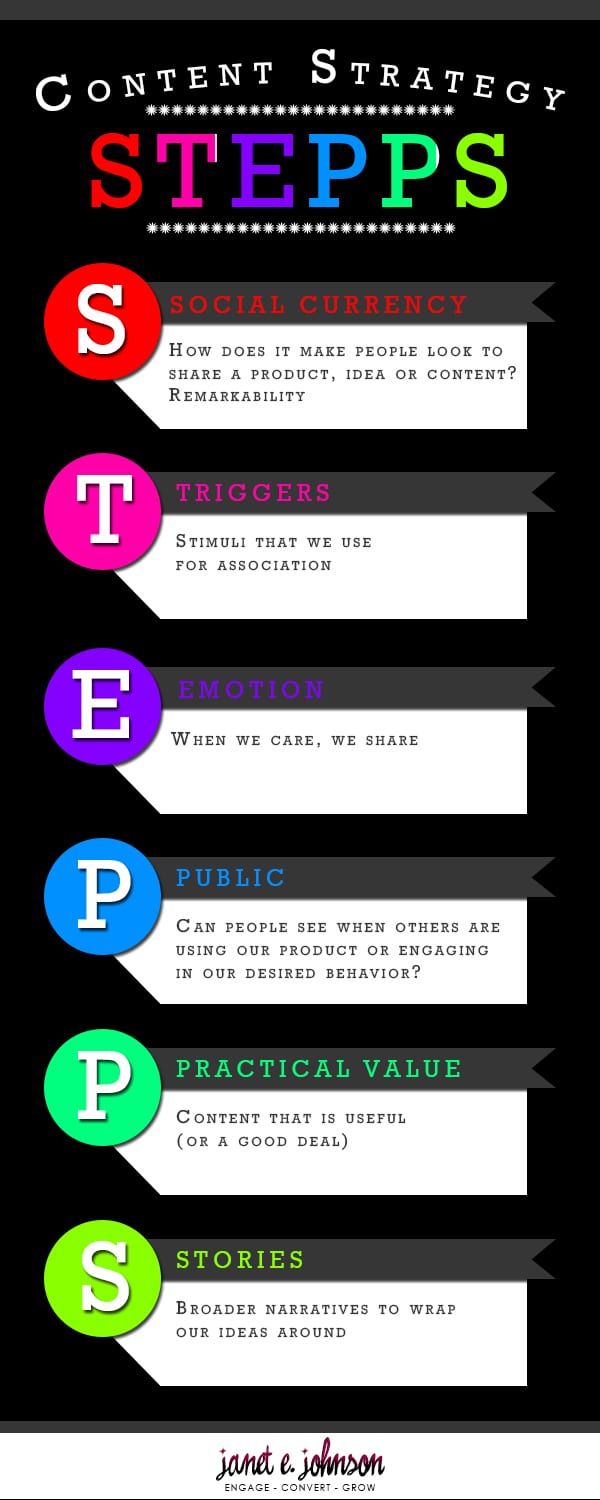 Content Strategy Breakdown using STEPPS
Why do you need a content strategy?
With content marketing becoming one of the most important methods for reaching customers and prospects, putting a strategic plan into place for your content creation and distribution will maximize its effectiveness.
What is included in a content strategy?
A content strategy can include website content, email marketing, social media content, videos, pictures, conversations online and more. It's important to break this down all this content into the STEPPS to get the most out of all that content you are putting out on the web.
So, let's break it down.
STEPPS
S – Social Currency
How does it take people look to share a product, idea or content? What makes it remarkable enough to share?
It is important here to remember your target audience and focus on content that would interest and excite them. What grabs their attention enough to share? If you relate to your audience and get them to say yes and agree with your content, making it remarkable to them, it is more likely to be shared.
T – Triggers
Stimuli that we use for association
What's the problem your target audience is having? How can you fulfill that problem? Trigger the emotion of helping them with that problem.
E – Emotion
Are they laughing? Crying? Strike an emotion that makes them care.
P – Public
Can people see when people are using our product or engaging in our desired behavior?
Do you have a strategy around people using your products? Some possibilities could be testimonials or running a contest to get happy customers send in their pictures or videos.
P – Practical Value
Content that is useful (or a good deal)
Once again, we really need to think about our target audience and offer the solution to a problem. If it is useful, they will resonate with that content. If you can offer some sort of deal, all the better!
S – Stories
Broader narrative to wrap our ideas around
Ever heard the saying, "Facts tell, Stories Sell"? Well, it is definitely true in any type of marketing. The more you can tell stories in your content, the more you will grab the attention of your audience.
Using the STEPPS method for your content strategy breakdown will improve your shares, conversions and sales. Think about this method each time you are creating new content, whether it's video, blog posts or any other type of content.
Be sure to save this infographic in a place that will be easy to refer to each time you do a content strategy breakdown.
The following two tabs change content below.
Janet Johnson
Janet E Johnson has numerous years in online marketing. She started her online career selling products on eBay in 1998. In her career, she has worked with both large brands and smaller businesses. Janet is the creator of the online social media training course, Social Strategies 101, hosts a podcast, Business Growth Time, and has been featured on Social Media Today, CNN, Entrepreneur, Smartbrief, Inbound.org and NISM.
Latest posts by Janet Johnson (see all)
Comments
comments