Connecting with Others, Contests, Email Marketing, Facebook Marketing, Pinterest Marketing, Social Media Marketing, Visual Marketing
email marketing, facebook contest, facebook marketing, pinterest contest, social media marketing
Contest for list building case study – 1600 Emails in 13 days + MORE
This post is going to be a detailed break down of how I helped a client gain 1,600 new emails in less than 2 weeks (13 days actually).
They were also able to get:
1,600 new emails
218 likes on their Facebook Page
546 shares
921 pins on Pinterest
Now I bet you are wondering how? That's what I'm going to tell you.
We used the following tools/platforms:
Woobox
Facebook
Pinterest
Emails
Facebook Ad
On January 29th, we launched a contest with Woobox. Woobox is an app provider where you can create contests, coupons and more. There are many great app providers, but this is the one we chose to use for this client.
We started with a Pin-to-Win Contest. This is a contest that is embedded on Facebook. It also has a link for mobile. Visitors can choose if they want to 'like' your Facebook page. That is optional.
In order to enter, a visitor has to Pin your Pin to one of their boards on Pinterest, then they need to enter their email. If they share the contest out on social media, they get an additional entry. That is how the contest is set up.
Here's an example of a Pin-to-Win Contest.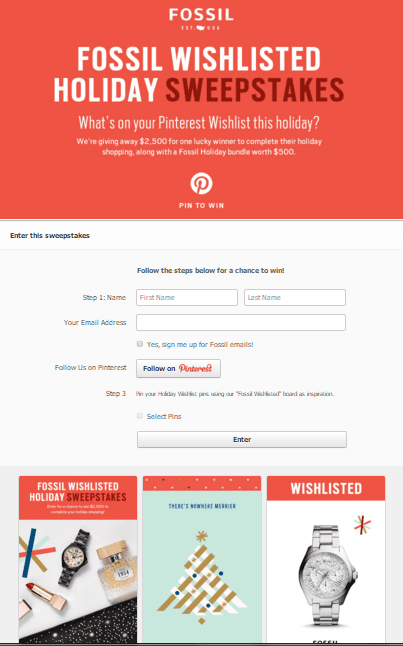 Creating the contest for list building was the first part.
But how did we get it out there? Obviously, we posted to all the social networks. That was a start. But the majority of traffic from our Facebook ad.
This is the part you want to read carefully. I set up an ad that had 3 images, used the slideshow option on Facebook, which created a video. This video was then used to promote the contest. We put the link to the contest on the post itself and inside the video. The cost of the ad was $147.34. It reached 35,875. And views of the video were 10,393.
Let's break down these number EVEN further.
Total Cost of Promotion:
Ads – $147.34
Jewelry – Donated
Product Out-of-Pocket – Around $50
Woobox Monthly – $100
Total Spend: $297.34
Remember, this contest gained likes, was pinned 921 times and shared 546 times. But looking at email leads conversion alone, let's break down these #'s even further. If we figure 1,600 emails into $297.34, that equals $.19 per lead. That's ONLY $.19 PER LEAD!
What is the average cost per lead? According to Hubspot, the actual cost per lead for a B2C (Business to Consumer) business is $15/per lead. This campaign cost per lead was $.19 compared to the average $15.
This method is an extremely cost effective way to use a contest for list building, gain new likes, get social shares and get repins on Pinterest.
Give it a try! I'd love to hear how your contests have helped your business grow.
The following two tabs change content below.
Janet Johnson
Janet E Johnson has numerous years in online marketing. She started her online career selling products on eBay in 1998. In her career, she has worked with both large brands and smaller businesses. Janet is the creator of the online social media training course, Social Strategies 101, hosts a podcast, Business Growth Time, and has been featured on Social Media Today, CNN, Entrepreneur, Smartbrief, Inbound.org and NISM.
Latest posts by Janet Johnson (see all)
Comments
comments