Facebook Ads, Facebook Marketing, Facebook Video, Instagram Marketing, Social Media Marketing, Video
facebook, facebook ads, facebook boost, facebook marketing, facebook pixel, facebook video, online marketing, social media marketing
What are the 5 Top Facebook ad mistakes businesses make?
Please let me preface this with that while your reading, you may be feeling like these are 5 Top Facebook ad mistakes you are doing. Don't feel bad for making these mistakes. Often these mistakes happen because the business owner just doesn't know better. I am writing this so that you can be aware and fix these mistakes. More than likely you have never truly been taught the right way to run ads.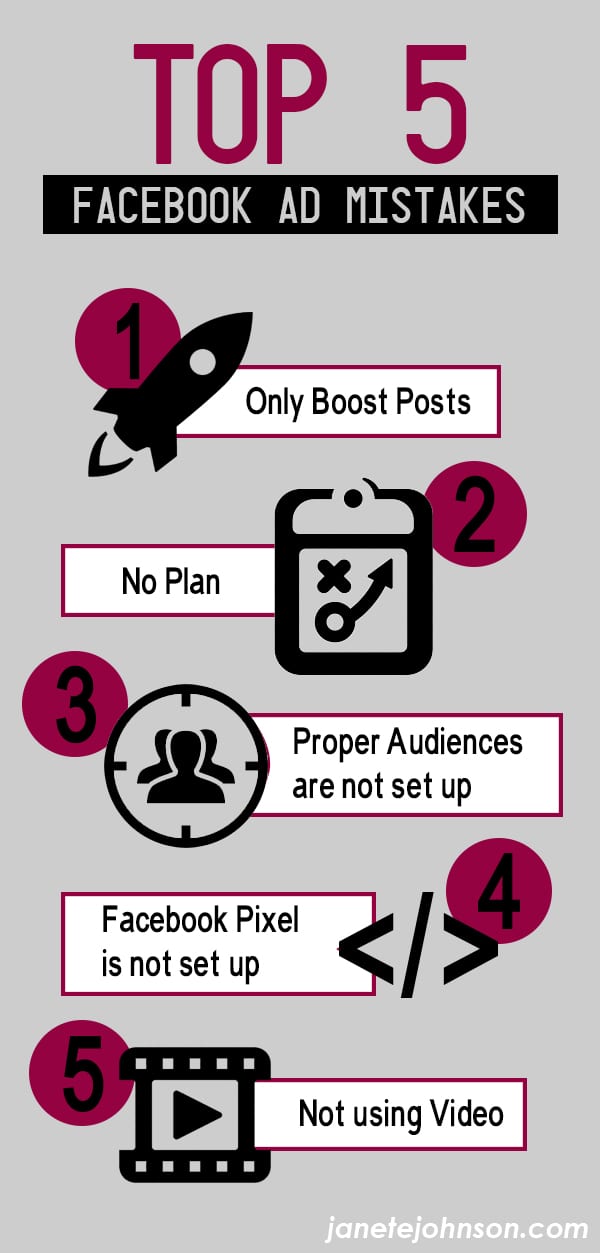 MISTAKE #1: Only Boost Posts!
If a business is only doing a boosted post, they are missing out on lots of other advertising areas. There are ways to get more targeted and strategies than just a boost.
Now, is a boost wrong to be doing? Not necessarily.
The majority of businesses don't know what else to do and they say "I know I need to spend money, so I'm going to hit this boost button" and that's where it ends.
This is my number one mistake – if that is all that you're doing.
Facebook really pushes the boost button on business pages. They make it hard to know all options.
Click To Tweet
MISTAKE #2: No Plan
Number two is not having a plan or a strategy in place. If you just hit the boost button and you don't have a conversion or funnel to follow up. What happens after that video? Do you try to convert them to something? Your website, your email list?
You need a plan with an end goal for your Facebook ads.
Click To Tweet
MISTAKE #3: Proper Audiences are Not Set Up
Some of you may have set up generic audiences, messy audiences here and there. Not setting up your audiences correctly is another of the 5 Top Facebook ad mistakes.
Maybe you just said, "I know what women between the ages of 25 and 55 and American." That is okay, but there are numerous different audiences that actually work really, really well with Facebook and it's very important to narrow down those audiences and test those audiences, too.
I would say with the audiences, you need to have certain ones set up and you also need to have them tested and you test these different audiences and the number one type of audiences is a warm audience.
Some top warm audiences you need are people that have liked your page, email campaigns, people that have been to your website, the people that have engaged on your Facebook page, people that engaged with your videos. Then, you need lookalike audiences too.
It's important to test them and see which work the best and keep them updated.
MISTAKE #4: Facebook Pixel is not set up
You must set up your Facebook Pixel. This probably should have been #1!
If you do not have a Facebook pixel set up, you are missing out on conversion, leads, sales and tracking.
Click To Tweet
It's very simple to do. I do have a blog post that on setting up the Facebook pixel if you need help setting it up.
MISTAKE #5: Not using Video
Last one is… not using video. You may have heard how popular video is with Facebook. But, did you realize it can cost you a lot less money on your ads to use video too? I won't say it 'always' does, so You MUST test both video and graphics for your ads.
I have found using video can convert best and get the most engagement, especially square videos. We test this a lot. But, once in awhile I get surprised. That's why I suggest to test. Create an ad set with a square video and another with a graphic. Let the 2 ads run at the same time for 4-7 days. Then, see which one performs better.
The majority of the time, video is absolutely winning with ads, Click To Tweet It is something to test.
Bottom line is if you are doing some sort of paid advertising, you are ahead of the game. I just want you to push yourself further than 'just a boost'.
Facebook is an amazing ad platform that truly not only builds brand awareness, but also converts to leads and sales.
Click To Tweet
Going past these 5 top Facebook ad mistakes will help you get closer to just that!
Looking to take you Facebook Ads to the next level? Book a strategy call!

.
The following two tabs change content below.
Janet Johnson
Janet E Johnson has numerous years in online marketing. She started her online career selling products on eBay in 1998. In her career, she has worked with both large brands and smaller businesses. Janet is the creator of the online social media training course, Social Strategies 101, hosts a podcast, Business Growth Time, and has been featured on Social Media Today, CNN, Entrepreneur, Smartbrief, Inbound.org and NISM.
Latest posts by Janet Johnson (see all)
Comments
comments