Blogging, Branding, Connecting with Others, Facebook Ads, Facebook Ads, Facebook Marketing, Facebook Video, Instagram Marketing, Linkedin Marketing, Periscope, Pinterest Marketing, Podcast, Productivity, Social Media Marketing, Twitter Marketing, Video, Video Seo, Visual Marketing, Youtube Marketing
2018 Social Media Marketing Trends Predictions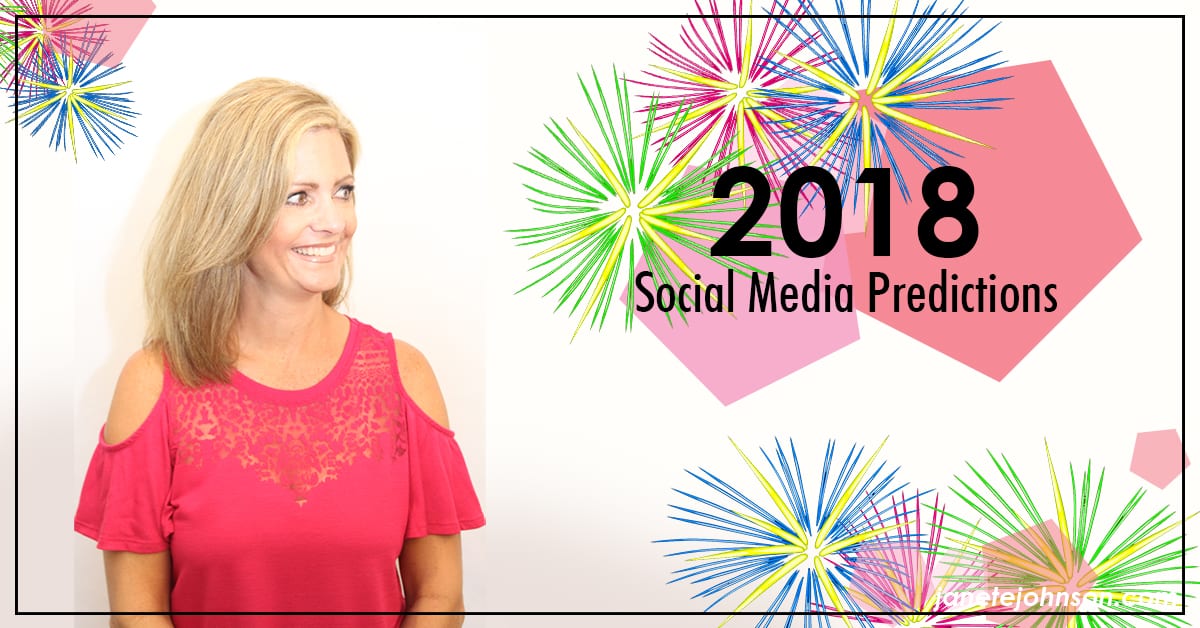 There are a number of 2018 Social Media Marketing Trends…way beyond my list of 5 trends I am predicting. These are the ones that really stand out to me and I find are extremely important for businesses to not only be aware of, but to create a plan on how they will implement these 5 areas into your social media marketing in 2018!
#1 – Video in Social Media will continue to grow
In 2017, video proved to continue to grow. Facebook's Live video was embraced by numerous people and brands. Companies started seeing the organic reach and engagement much higher with live video and video on Facebook. The users that took notice, saw the results. Take my friend, Karen, her weekly Facebook live show in 2017 took her business from $240 to $3,900 in online sales in less than 5 months. Read her FULL CASE STUDY BLOG POST.
Facebook is still looking to give video priority in 2018, with its continued push toward live video, video, square video and the new launch of Facebook TV.
Instagram stories uses video and the popularity of stories will continue to rise in 2018. Stories are a way to get in front of your followers to keep them highly engaged. One minute videos can be used in posts too. At one point, these received much more engagement than a picture, but at the end of 2017, most of the time there was not much difference on engagement between video and image. I believe Instagram is really pushing to use video in stories
LinkedIn introduced video late in the game. Being able to post videos in your updates released late in 2017. Once again, just like when Facebook released video, the reach on video is pushed further than regular status updates. Terry Bean and I recorded a podcast episode on the stats of videos he posted. I believe LinkedIn's video updates will continue to be important in your marketing.
YouTube and Facebook still continue to compete for attention. With the launch of Facebook TV, Facebook is hoping to take a bigger piece of the video pie. If they do it right, they will succeed. But, YouTube is still a very heavily embraced video platform. I know the millennials and younger generation still immerse themselves on YouTube videos. (I sure know my 13 year old spends a ton of time watching YouTube!)
With video being embraced by all social networks, it has proven and will prove that video will need to be an important part of your marketing strategy in 2018. If you have not yet jumped on the video bandwagon, don't wait! Get your 2018 video marketing plan together right away.
#2 – Messenger Bots and Facebook Messenger will grow in Popularity
Chatbots hold a lot of potential in providing instant customer service, and we know that social media users prefer the platform for customer service and expect quick responses.
Sprout Social has now integrated a chatbots that you can integrate with Facebook or Twitter. One of the most talked about messenger bot platforms I hear talked about is manychat. You can collect contacts to market to again and again. If you can compare this to building an email list, but open rates are over 90% with messenger, while email open rates are around 20%.
I suggest doing both email marketing and messenger marketing. Just be careful to not message your messenger list too much. From what I have seen, people will unsubscribe quickly if you bug them too much.
#3 – Influencer Marketing will continue to Grow
Have you heard the saying, [clickToTweet tweet=""People want to buy from people."" quote=""People want to buy from people.""]
Over the past few years, brands have embraced putting people and employees out front to sell their products. This is a fantastic way to get in front of a potential buyers audience that not hear of you otherwise.
Influencer Marketing will be a complementary way to authentically reach out to new audiences, while building relationships with those that can help their business.
4 – Organic Social Reach will continue to Drop
[clickToTweet tweet="In 2018, you will see an even bigger drop in organic reach" quote="In 2018, you will see an even bigger drop in organic reach"], for not only Facebook Pages, but for other social platforms too.
Businesses will come to the way overdue realization that they will need a smart paid strategy behind their content and brand marketing. This shift is tough for many who reaped the rewards of FREE organic social reach.
2018 will be the year to learn how to best use ads to market on Facebook and Instagram. Paid advertising on Google, YouTube and Pinterest might be necessary for your brand too.
5 – Mobile Focus will still be Priority
The last, but not least 2018 social media marketing trends prediction is mobile. We have tested time and again ads that are targeted to mobile and ads targeted to desktop. Which typically (if not always) wins? Mobile. Mobile is more cost effective and more users are logging into social sites through their phones and tablets.
At present about 80% of Facebook's revenue stems from mobile ads, and Contently predicts that by 2020, 59% of US Facebook users will shift to mobile-only usage. Social media marketers will focus all the more on mobile next year.
Mobile social users engage with brands more, and brands can benefit from creating content specifically for them.
In summary, if you have not implemented any of these 2018 social media marketing trends, it's time to get started! Pick one or two to be of focus at first. Don't take on all of them at once. They are all important, but I also don't believe in overwhelming yourself. This depends on the size of your company and how many can help you create videos, ads, messenger ads and all the content marketing overall.
Implementing all or some of these strategies will make a big difference in your 2018 marketing. Wishing you the most growth and sales in 2018! 🙂
The following two tabs change content below.
Janet Johnson
Janet E Johnson has numerous years in online marketing. She started her online career selling products on eBay in 1998. In her career, she has worked with both large brands and smaller businesses. Janet is the creator of the online social media training course, Social Strategies 101, hosts a podcast, Business Growth Time, and has been featured on Social Media Today, CNN, Entrepreneur, Smartbrief, Inbound.org and NISM.
Latest posts by Janet Johnson (see all)
Comments
comments